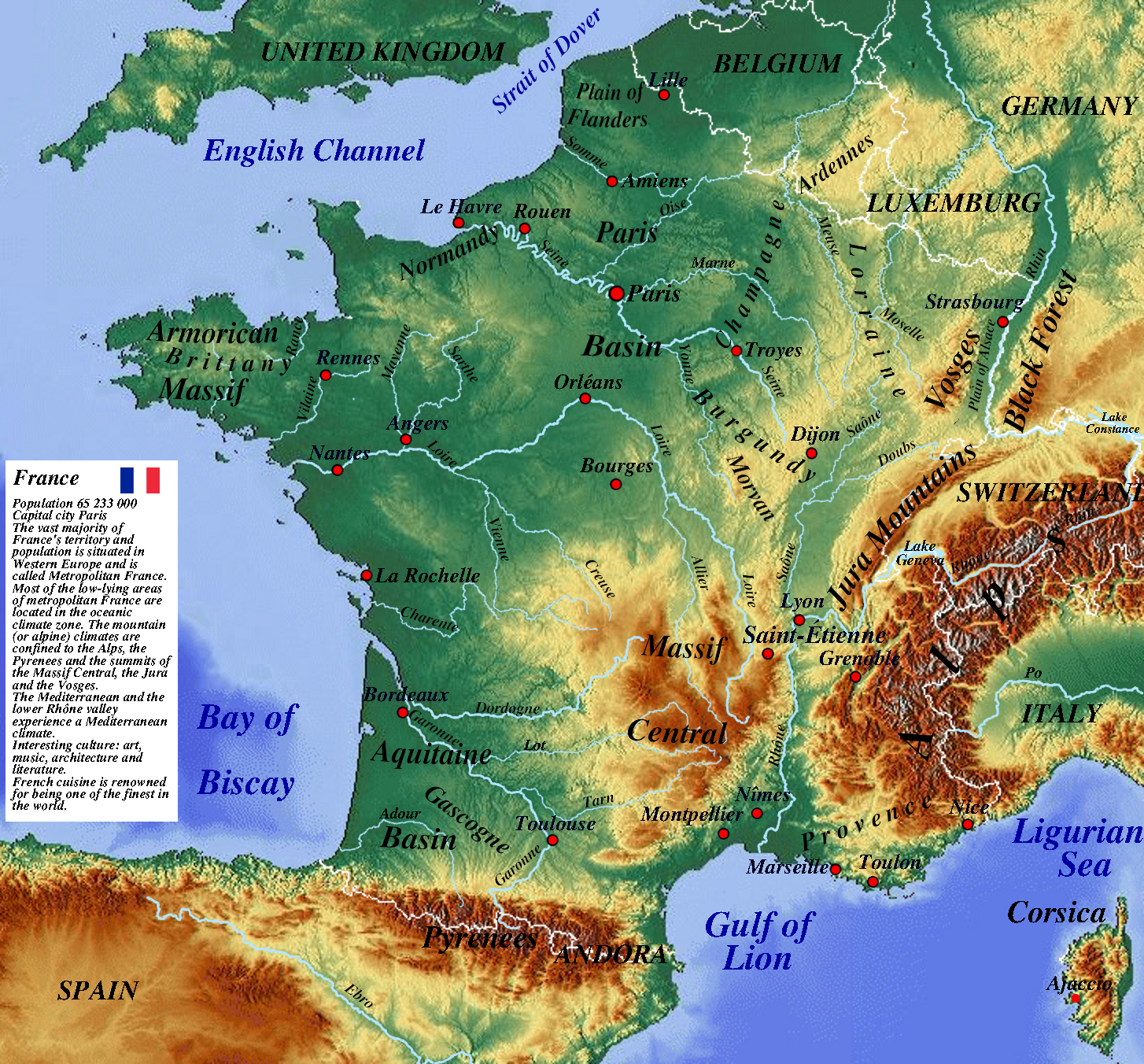 Map resolution 1454x1352 ( click map )
The author of this map is physicalmap.org
This file is licensed under the Creative Commons Attribution-Share Alike 2.0 Generic license.
Some information from the world map on mamps-for-free.com was used. Other source wikipedia.org and data.un.org.
Capital city Paris
The vast majority of France's territory and population is situated in Western Europe and is called Metropolitan France. Most of the low-lying areas of metropolitan France are located in the oceanic climate zone. The mountain (or alpine) climates are confined to the Alps, the Pyrenees and the summits of the Massif Central, the Jura and the Vosges. The Mediterranean and the lower Rhône valley experience a Mediterranean climate.
 
France is the world's third largest exporter of agricultural products.
France exports wheat, poultry, dairy products, beef and pork, as well as processed foods. French champagne and Bordeaux wines are famous.
Food, chemical and automotive industries have the greatest importance for the French economy.
Among the largest economies in the world, France is distinguished by one of the lowest levels of poverty, the smallest income inequality and a high-level system of social services (health care, education system, pension system) and public services (transport, security).
France - statistic data - 2018 ( data.un.org ).
Population :  65 233 000
Surface area :   551 500 km2
Pop. density per km2 :    119.1
GDP: Gross domestic product :  2 465 454 000 000 US$
GDP growth rate annual 1.2 %
GDP per capita :    36 826 US$
Employment in agriculture - % of employed :   2.8
Employment in industryg - % of employed :    20.3
Employment in servicesg - % employed :       76.9
International trade: exports : 526 267 000 000 US$
International trade: imports : 617 386 000 000 US$
Urban populationa : 80.4 % of total population.
Forested area     31 % of land area.
Description of France in the Encyclopædia Britannica.
Movies about France - youtube.com.
The map of France is shown
Mountains : Alps, Armorican Massif, Black Forest, Jura Mountains, Massif Central, Pyrenees, Vosges
Basins :  Aquitaine Basin, Paris Basin
Plains :  Plain of Alsace,  Plain of Flanders
Rivers : Allier, Charente, Creuse, Dordogne, Ebro, Garonne, Loire, Lot, Marne, Mayenne , Moselle, Meuse, Midouze, Oise, Po, Rance, Rhin, Rhône, Saône, Sarthe, Seine, Somme, Tarn, Vienne, Vilaine, Yonne
Cities : Ajaccio, Amiens, Angers, Bordeaux, Bourges, Dijon, Grenoble, La Rochelle, Le Havre, Lille, Lyon, Marseille, Montpellier, Nantes, Nice, Nîmes, Orléans, Paris, , Rennes, Rouen, Saintes, Saint-Étienne, Strasbourg, Toulouse, Toulon, Troyes
Historical region :  Brittany, Burgundy, Champagne, Gascony, Lorraine, Normandy, Provence
source: data.un.org, wikipedia.org